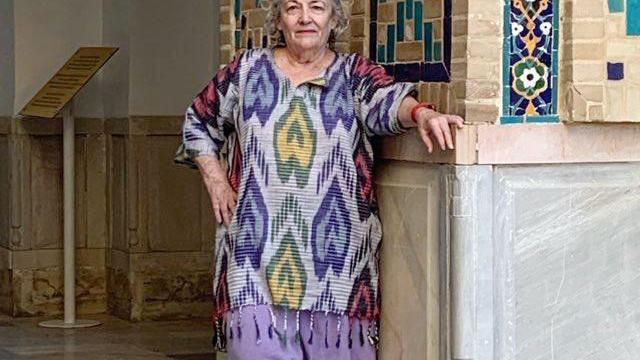 Twenty-five years and nine countries.
This is just a small glimpse of Kitty Johnson's resume. Writer in residence at the Peanut Factory in Edenton, she is a globetrotter and teacher who has come to the North Carolina coast to work on her next memoir: "Coddiwomple".
The Peanut Factory, a 20,000 square foot building on Badham Road, started in 2013 as the host of a nonprofit artist residency program. Since then, many artists, painters and sculptors have made their home in Edenton as resident artists.
Johnson, 75, is the Factory's ninth artist in residence and arrived in October. Graduated from Wilmington College in Ohio in 1967 with a bachelor's degree in English, Johnson returned to school in 1992 at California State University, Los Angeles to pursue a master's degree in Teaching English as a Second Language (TESOL) and anthropology.
Her worldwide career took off from there and she began her odyssey by moving to Austria to produce American Studies Programs and TESOL Studies Programs.
After eventually working in countries in all four hemispheres: Uzbekistan, Austria, Turkey, Azerbaijan, Ukraine, Mexico, Peru, Cambodia and Comoros – while briefly visiting China and Iran – Johnson gained a wealth of multicultural experiences.
Noting the "late start" of her travel career, she only started her adventures in her fifties.
That didn't stop Johnson, however, who kept moving until the start of the COVID-19 pandemic.
Hosting a Zoom Calling Forum for community members and those overseas, the Peanut Factory introduced Johnson and hosted a question-and-answer session alongside a reading of briefs.
Julia Townsend, co-director of the Peanut Factory, hosted the event alongside Terry O'Neil. Shelly Ridder, intercultural trainer and guest host, took the reins of the question-and-answer session.
Highlighting Johnson's journey around the world, Ridder asked how Johnson's early career as a playwright helped influence his love for writing stories.
"I always loved acting when I was in high school, college and beyond," Johnson said. "Originally, I spent most of my time in the theater, on stage or working behind the scenes.
She eventually worked on her own plays and presented one at the Los Angeles Actors Theater, becoming playwright in residence in the 1980s.
Johnson credits his ability to create dialogue and compose story structure to his first outing as a playwright, years ago.
Regarding education abroad, Johnson said she originally wanted to join the Peace Corps when she was younger, but obstacles stood in her way.
Johnson then spoke at length about his time in Uzbekistan in the late 1990s.
Staying in Bukhara, Uzbekistan's fifth largest city, Johnson told the audience how she came to be known as the "Woman on a Bike" in a city where women generally did not ride a bicycle.
Cycling was also his transition to integration into local society, making friends and making contacts.
"I bought a shiny blue bike at the bazaar…. they only had bikes for the boys, but it was okay, "Johnson said. "A few local boys were able to ride bikes in exchange for helping me ride it to my apartment. From there, I was able to diversify and meet other people.
A few years later someone met Johnson at a conference for English teachers in another country. This person had worked in Bukhara with the Peace Corps and had heard Johnson's stories on his bicycle.
Her reputation had started to precede her.
Surprisingly, Johnson was finally able to accomplish her lifelong goal of joining the Peace Corps herself, in August 2019. Her new quest took her to the volcanic archipelago of Comoros, in the Indian Ocean.
Covid-19 eventually forced the evacuation of aliens from the islands and Johnson returned home, where she eventually received an invitation from Townsend to join the Peanut Factory.
While at Edenton, Johnson notes that her time at the Peanut Factory prompted her to write almost every day and accomplish a lot in her book.
"It gave me a mid-work push to finish this eventually," Johnson said. "Edenton is a wonderful place to walk and see the architecture. The weather was perfect. Learning about the inner banks and Albemarle's sound was awesome and I want to go back.
While it is not known when her book – a collection of her travelogues – will be finished, the title: "Coddiwomple" is taken from an online article she once saw on Facebook.
The definition of the word is simple: "to travel on purpose to a vague or unknown destination".
Johnson says it resonates with her.
"The title suits me because I don't really have a start, middle and end. I've never had a final goal in those 25 years, "she said.
Thadd White is editor-in-chief of Bertie Ledger-Advance, Chowan Herald, Perquimans Weekly, The Enterprise & Eastern North Carolina Living. He can be contacted by email at twhite@ncweeklies.com.