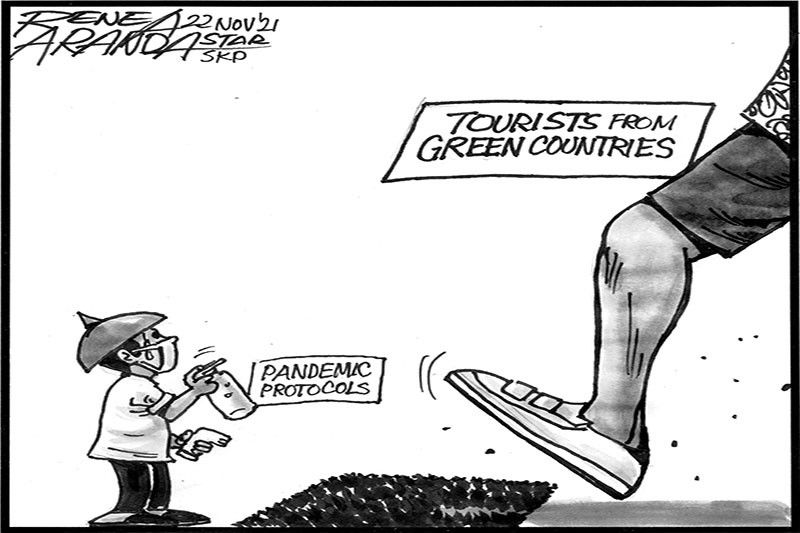 The Filipino star
November 22, 2021 | 00h00
With COVID cases declining and vaccination rates rising, the government is preparing to roll in to welcome international leisure travelers.
The easing of arrival restrictions will be limited to fully vaccinated travelers from countries or economies on the so-called low-risk COVID green list. From November 16 to 31, it is American Samoa, Bhutan, Chad, China, Comoros, Falkland Islands, Guinea, Guinea-Bissau, Hong Kong, India, Indonesia, Côte d 'Ivory, Japan, Kosovo, Kuwait, Kyrgyzstan, Malawi, Mali. , Marshall Islands, Micronesia, Montserrat, Morocco, Namibia, Niger, Northern Mariana Islands, Oman, Pakistan, Palau, Paraguay, Rwanda, Saint-Barthélemy, Saint-Pierre-et-Miquelon, Saudi Arabia, Senegal, Sierra Leone, Saint -Eustachian, South Africa, Sudan, Taiwan, Togo, Uganda, United Arab Emirates, Zambia and Zimbabwe.
Only COVID vaccines recognized by the World Health Organization and approved for emergency use in the Philippines by the Food and Drug Administration will be recognized.
While this is certainly good news for the hospitality industry, the lifting of quarantine requirements for these travelers must be accompanied by an effective system of contact tracing and testing. Travel itineraries in particular must be carefully reviewed for transits or stopovers in places not on the green list which are now facing a new wave of COVID.
Europe is grappling with a new wave of COVID that has caused a return to mask warrants and mobility restrictions, including lockdowns. The UK is facing a spike in cases attributed to a more infectious strain of the highly contagious Delta variant.
As tourism thrives in a hassle-free environment, we are living in extraordinary times and the unprecedented global health crisis is not over. Fully vaccinated individuals can still be infected with or carry the COVID virus. The government must ensure that it can test and search for COVID anyone entering the country for any purpose.
It took 20 long and crippling months of containment to contain a virus that infected more than 2.8 million people and killed 47,074 in the Philippines yesterday. As infections have slowed, cases rose again yesterday, with 2,227 recorded cases.
All experts warn against complacency, overconfidence in vaccines and dropping guard. It is worth remembering that the first two COVID patients in the Philippines, one of whom became the first to die, were tourists who came directly from the Chinese city of Wuhan where the coronavirus originated.